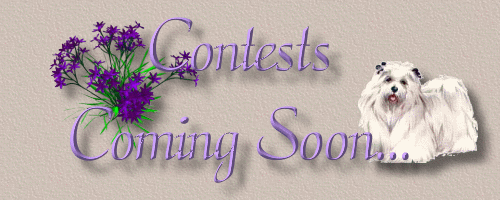 Please Bookmark this page to see what Contests
We have Scheduled for the future.
Enter Our Contest
We Will Schedule in the next available Opening
The Next available contest, unless it is a special contest that will be listed below
Will NOT be Scheduled until April, 2007!!!
Coco's Castle will be closed from November to March
while awaiting the arrival of our first born child!
We will be back full for all new contests coming in April
So Enter Today!!

Cats only Contest Coming in April, 2007Enter Here
Best Friends Contest coming in May, 2007
Pet must be with other petsEnter Here
Funny Faces Coming in May, 2007! Enter Here
Have Questions on our contest or would like to request a Special Contest
Email the Owner