Welcome To Week 300

The Winner of Coco's Little Angel of the Year Contest
October "2005"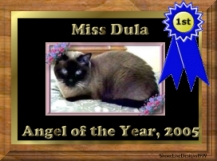 "Miss Dula"
Loved By: Darlene

Winner
Cassey, First Place Winner of the week Jan. 27, 2006

Each Contest begins Sunday at 12 midnight EST/9 PM PST
and ends Friday at 11 PM EST/ 8 PM PST
Contest Votes are not Updated Monday or Friday!!!
Single click on picture.
Push your e-mail SEND Button
Do Not change anything, Do Not type anything.
(AOL Users will need to type something in the body)

To enter our Valentine Contest Next Week
Click Here!
The Contestants Photos
Vote Totals Updated
Time and Date est
Buddy

"All Dressed for Thanksgiving!"

Contestant 1

Votes

Cuppycake

"The Sweetest Little Girl!"

Contestant 2

Votes

Leroy

"Let's Go Fishing!."


Contestant 3


Votes

Maddie

"Watch out Ladies! Maddie is on the prowl"


Contestant 4


Votes

Rose

"Hollywood Rose."


Contestant 5


Votes

Sable

"Time for Play"


Contestant 6


Votes

Zoe

"Zoë's First Birthday Party"


Contestant 7


Votes
Helen makes the most beautiful Calendars and Coco's Castle
Recommends them to everyone. Please click on Helen Gregory's Banner for more information and Coco's Castle will be having their Rainbow Bridge week in May. So watch for upcoming details...