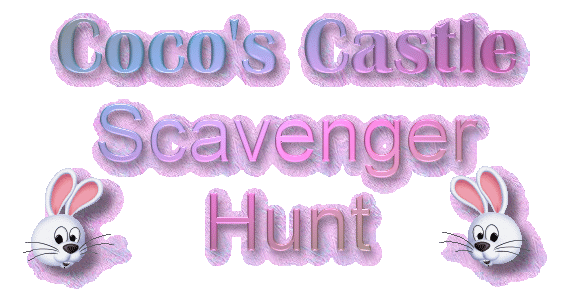 Welcome to Coco's Castle first Scavenger Hunt!
Here is the Websites that you will be able to find the eggs on!
The Hunt will take place the week of March 25 - 30!
YOU MUST REGISTER TO PLAY!!!!!!!
Make sure you search each website, you will find one egg per website. After you find the egg, you MUST sign the guestbook. You must use the name you registered with me and you MUST coment on something about the page the egg was found on. So that we know that you did find the egg.
If there is no guestbook, then email the owner of the page and tell them the page you found the egg on.
PRIZES
First person Completes Scavenger Hunt ---------A PET TOY!

Everyone who completes Scavenger Hunt ---------- A Pet Car
Everyone who attempts Scavenger Hunt ---- Glitter Animation Name
Email me tiffaney@eastky.net with any questions