The Winner of Coco's Little Angel of the Year Contest
October "2003"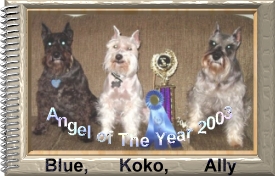 "Blue, Koko And Ally "
Loved By: Jan Jones and Nancy Powell


Welcome to Contest


Week 202

Winner
Gertie, First Place Winner of week Oct. 24, 2003

Single click on picture.
Push your e-mail SEND Button
Do Not change anything, Do Not type anything.
(AOL Users will need to type something in the body)
Rules and Entry Information Click Here
Each Contest begins Sunday at 12 midnight EST/9 PM PST and
ends Friday at 11 PM EST/ 8 PM PST...
Contest Votes are not Updated Monday or Friday!!!
Please vote in BOTH Contests
Click Here for Second Contest
The Contestants Photos
Vote Totals Updated
Time & Date est
Cuppycake

"Minnie Pearl's Twin"

Contestant 1


Votes

Tuff

"Ready for A Ride"

Contestant 2


Votes

Jodi and Jasmine

"Cute Cow and Chicken"

Contestant 3


Votes

Kyrie Jade

"My Little Princess"

Contestant 4


Votes

Misty

"Sherry's Princess"

Contestant 5


Votes

Peaches and Snowball

"Peke under arrest....Who me momma?."

Contestant 6


Votes

Spanky

"Happy Halloween"

Contestant 7


Votes
Please Support Coco's Castle By Clicking on our Sponsor.

Join us in Some Fun!!
Find out all the latest news on
or Pet Contest. All Pet
Owners Welcome. Join our Chat
and ask the members to
Vote for your pet!!!
This is Amy, she will be painting our 14 x 18
Acrylic Painting in 2003. Amy will also be selling her
painting throughout the year. Amy's prices are very reasonable and her work is professional. Coco's Castle strongly recommends her to paint your pet.
Click here to see Amy's Website
Coco's Castle is dedicated
In The memory of Coco, Tiffaney and Sammy.

Cocos Castle was created

Copyright © 1999 - 2003 by Deborah S. Martin, All Rights Reserved
Coco's Castle Has Been Visited