The Winner of Coco's Little Angel of the Year Contest
October "2003"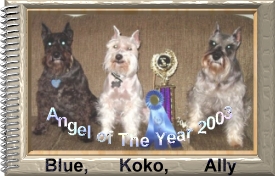 "Blue, Koko And Ally "
Loved By: Jan Jones and Nancy Powell
Alabama and New York
Welcome to Contest


Week 202

Single click on picture.
Push your e-mail SEND Button
Do Not change anything, Do Not type anything.
(AOL Users will need to type something in the body)
Rules and Entry Information Click Here
Each Contest begins Sunday at 12 midnight EST/9 PM PST and
ends Friday at 11 PM EST/ 8 PM PST...
Contest Votes are not Updated Monday or Friday!!!
Please vote in BOTH Contests
Click Here for Second Contest
The Contestants Photos
FiNAL Vote Totals Updated
Time and Date est
Leapurr

"Kitty Dress"

Contestant 1


80 Votes

Cody

"I look sweet, but I'm not always a honey!"

Contestant 2


99 Votes

Mr. Nibbs and Dolly

"Trick or Treat"

Contestant 3


254 Votes

Ms. Snorts

"A Sweet Little Witch"

Contestant 4


67 Votes

Nancy, Frankie & Joey

"Wizard of Oz Kids"

Contestant 5


257 Votes

Nikki and Willy

"Duke and Dutchess"

Contestant 6


96 Votes

Courage

"Super Dog!"

Contestant 7


266 Votes

Cocos Castle was created

Copyright © 1999 - 2003 by Deborah S. Martin, All Rights Reserved
Coco's Castle Has Been Visited