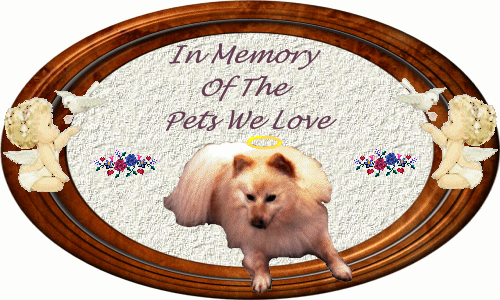 At one time or another we have all lost something very special in our lives.
Our Fur-Babies become very special in our hearts, we feed, groom, play and love them. When they are ill we are sick at heart, when they are happy we smile and embrace. When the time comes for us to part we feel as our lives have ended. I choose to believe that I will be reunited with my Special Fur Babies "Coco Bear" and "Tiffaney" someday.
Until then I need a place where I can visit, and remember my Fur Babies. I want a place where I can share their lives with others, because they were so special.

I invite you to also share with us your special memories of your pet. Each May we will be having a "Rainbow Bridge Week". Where we will honor our pets. Please let me know if you would like to be on our mailing list for a reminder to have your pet with a special poem, photo or story in our Special Week.




Coco's Special Pet Memorials....

This Page is dedicated: