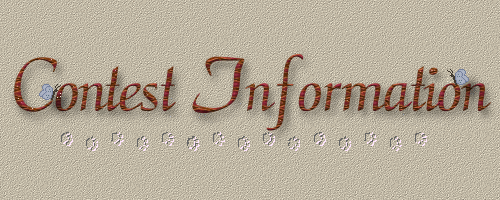 Coco's Castle has a weekly photo "pet" contest where your friends can vote for your pet. The contest is free, however due to high volume of entries, it may take a few weeks before your pet will be in the contest. When you send in your entry, I will schedule your contest. You may not receive this back for 3 -5 days AFTER you send it to me, that does not mean you were not accepted. I have a very busy schedule. I do schedule the dates in order that I receive the contestants..

I realize that your contest date may seem far into the future, but I will email you a reminder letter a few days before your contest begins so therefore you can be getting prepared.
Keep Coco's Castle A Free Contest by Clicking our Sponsors


How To Vote:
Voting is done by email Voting. . Choose the Pet Photo and click on the pet's photo and your email should come up, click send and that is all there is to it. Only One Vote Per Day. In the past we allowed you to vote one from each email address but this is no longer permitted. If you vote from more than one email address, we will find out sooner or later. We do watch this contest carefully and we want an honest contest to all contestants. At this time we are not limiting free email account votes but if we suspect someone of voting more than once a day we will not permit free email addresses in the future. We have done email voting for seven years and we sort by time and name and we do know when you are "stuffing the ballot box". If you are an AOL user you need to recheck to make sure there is something in the subject line. If not then you may have to write in the pets name. If the email comes to me blank, then I will just delete it. I can't place your vote for a certain pet if I do not know who it is sent for.
If you have trouble voting you may Click Here .
*If you find that you are having a problem voting. Please contact me immediately. Don't wait till the last day, I can't fix the problem If I don't know it exists.
Contest Time:
Each contest will begin on Monday at 6AM est and will end the following Friday 11 pm est/ 8 p.m. pst. We will not accept any votes before the contest begins or after. We have contests the first three weeks of each month but take the last week off unless otherwise noted to work on the contest.
You have our Promise that we will do everything in our power to make this contest honest!!

About Our Awards
Each Weekly winner will receive an engraved web award for their web pages. There will be a first, second, third, and runners up winners!! The first place winner of each contest will participate in our yearly contest each October.
The Little Angel of the Year will receive a Blue Ribbon. All contestants will receive a certificate that they can print. We do ask that you send us a picture when the first place winner receives their ribbon so we can post it on our web site.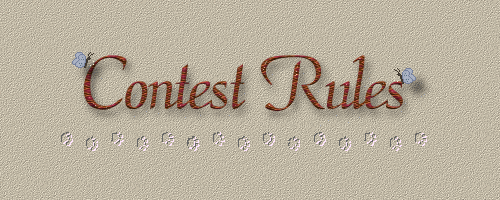 If you have entered this contest or considering entering Please read the following.
Rules:
The photo you enter, must be legally your own or you must have permission to enter this pet. Absolutely No Copyrighted pictures.

You can not use more than 1 email addresses to vote. We can tell when you are "stuffing the ballot box". You may get away with it once, but I will catch it.

Voting time ends each midnight. Do NOT vote more than once a day!!!

When entering this contest you agree not slander our contestants. I will not tolerate discrimination against other pets.
After the contest begins, please DO NOT ask for me to change photos! To change it means redoing the whole page and I don't have the time.

If you need to change photos please do so before at least one week before your contest begins.

When you enter the contest you must send in photo, and a valid Email address. If you switch email addresses before your contest please notify me.

When you send in the picture it becomes property of Coco's Castle and we have the right to alter size, and add frames to the picture. However, we do not sell or profit from your photo in any way.

The photo must be a clear photo large enough for us to see. We will only use pet pictures only unless other wise specified. We do have special contests where people can be in the photos but for a regular contest, we prefer pet only.

During the period before your contest begins, you may receive several letters from me regarding information. Please try to answer my questions as quickly as possible, since chances are I am working on your contest and have to be prepared in advance.
If for any reason you do not agree with these rules, please do not enter the contest. Coco's Little Angel Pet Contest is a friendly fun contest and I would like to keep it that way.

It is simple to enter our contest. All you have to do is email me a picture and your pets name. You must send your pets name.
Pets photo has to be clear and large enough for me to be able to see. I prefer a photo of pet only, no frames and no writing on the photo since the pictures on the contest page are small. I can alter the size, so if you have a large picture that is ok. Just please don't send me one that is too small. Please save the photos of pet with people for contests that include people. We do have Mothers Day, Fathers Day, Pet and Owner and Pet and Children contest.
Send photo to cocoscontest@gmail.com and please put in the subject line Pet Contest!
You can enter more than once!! Also you can enter more than one Pet. We prefer only one pet per contest, it gives you a better chance to win.
I am accepting contestants at this time!
please place in subject line "pet contest"