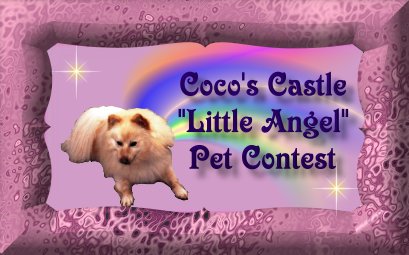 | | | |
| --- | --- | --- |
| | Welcome to Week 52 | |
Click here to make Coco's Castle your homepage
Lit'l Rusty
ANGEL OF THE YEAR, Oct 7, 2000


Meet The Angels In This Weeks Contest HERE

Winners of this Week's Contest Here
Single click on picture.
Push your e-mail SEND Button
Do Not change anything, Do Not type anything.
(AOL Users will need to type something in the body)
Web TV Problems Voting, See Contest Information above. ..
Visit my message board For Important Information:
Coco's Castle Message Board

Cocos Castle's 5th Quarterly
We Will Be Closed Next week but will reopen
October 1, 2000 for
"Cocos Little Angel of the Year Contest"
FINAL Results Updated:
TIME & DATE EST
Sign Up For Your Own FREE Cocos Castle Email!!
You Can Vote every day
but only one vote per email address!!!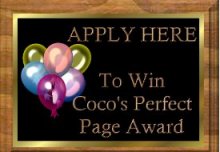 We would like to take this opportunity to tell you about a wonderful lady that loves to paint. She is going to be doing the painting for the "Yearly Winner" of Coco's Castle Contest. She offers these paitings for sale to individuals who may wish to purchase one of their own pets. For more details Click the Painting of Helen Above. This is a 14X18 size portrait. These paintings are sealed with a special sealer and requires no glass frame.
Join us in Some Fun!!
Find out all the latest news on
Coco's Castle and our Pet Contest.
All Pet Owners Welcome.
This way you will have more people to ask to vote for you!!!



Please Sign my Guestbook, and let me know
what you think about this contest. Any and all
comments are welcomed.

Have a Suggestion for the Newsletter or for Coco's Castle
Email our President and Vice President Below
*If you want a return letter, put on subject line Return
and I will return a message to you so that you
know that your Vote was counted.
Check This One out!! Great Page!
Candi Land is owned by Coco's Castle
Cocos Castle is owned By:

Coco's Castle is dedicated in the memory of:

and