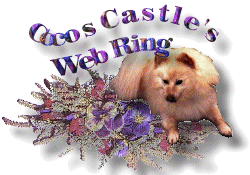 If you have a special feeling of love for pets?
Then please join Cocos Castle's Web Ring!
This Ring intended for pet lovers like you and me!
However, there are a few rules for Cocos Castle's Web Ring:
Your site must be suitable for children of all ages,
Any site with foul language, adult content, or
violence, will not be accepted into our web ring.

If a site should slip through that does not fit the above
guidelines please E-Mail the RingMistress and the site will be removed.
*Important*
Now your website is part of the queue.
Your site MUST display the Cocos Castle logos below before you
can be added to the ring. After you have put the logos and
the HTML fragment on your page, send me an Email
I will view your site and add you to the Ring As Soon As Possibile.
You will need to download the pictures below to your hard drive.
Be sure NOT to change the name of the file as if you do, it will not work right.
Then copy the code for Cocos Castle Web Ring HERE!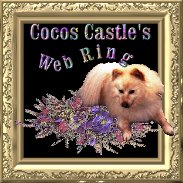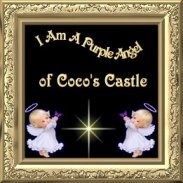 You Will receive a personalized HTML code
for your page through email along with your password.
Be sure to type in your email address, your name, and your site ID
in each of the required places.
You can see how the ring should appear Here.
If you did it correctly, it should look similar to the webring above.
[Return To Cocos Pet Contest] [Email Ring Mistress]
This area is for those who are already in the ring!
If you have lost your password please fill out the information below.