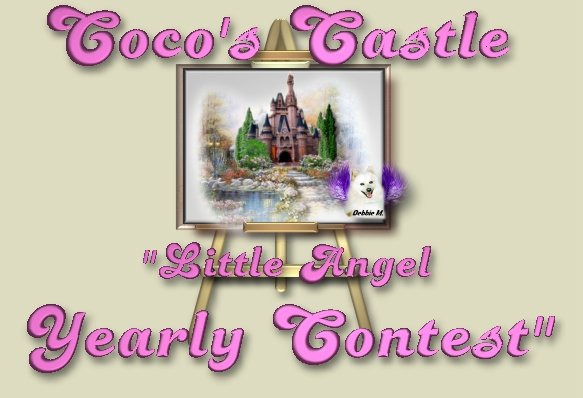 Welcome to Our 6 th Yearly
Meet The Winners of Coco's Little Angel of the Year Contest
October "2002"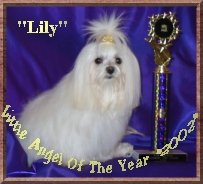 "Shadow"
Owner: Roger Schoolcraft
Single click on picture.
Push your e-mail SEND Button
Do Not change anything, Do Not type anything.
(AOL Users will need to type something in the body)
Contest Begins Monday at 6 am est
Ends Friday at 6 pm est


"Blue", "Koko" & "Ally"
Lott O' Blue, koko Puff
& Mac Murry,
Miniature Schnauzers
Owner: Jan and Nancy
Alabama


"Gabby"
Lady Gabrielle of Ross Manor
Yorkie
Owner: Dawn
Florida


"Spookie" &
"Fanny Fanbelt"
Pekingese and Domestic Short hair
Owner: Megan
Nevada


"Tanny" and "Tudi"
"Tanny & Tudi"
Pekingese
Owner: Margaret
Oklahoma
Please Support Coco's Castle By
Clicking on our Sponsor.

This is Amy, she will be painting our 14 x 18
Acrylic Painting in 2003. Amy will also be
selling her painting throughout the year.
Amy's prices are very reasonable and her
work is professional. Coco's Castle strongly
recommends her to paint your pet. If you are
Looking for reasonable prices and professional
quality talk to Amy! Coco's Castle
will stake our reputation on her!
Click here to see
Amy's Website

Email Debbie, Owner of the Contest.

Please Sign my Guestbook, and let me know
what you think about this contest.
Join us in Some Fun!!
Find out all the latest news on
or Pet Contest. All Pet
Owners Welcome. Join our Chat
and ask the members to
Vote for your pet!!!

Cocos Castle is was created:

Coco's Castle is dedicated in the memory of:

and

Copyright © 1999- 2003 by Deborah S. Martin, All Rights Reserved
Coco's Castle Opened in September. 1999
Coco's Castle Has Been Visited