The Winner of Coco's Little Angel of the Year Contest
October "2004"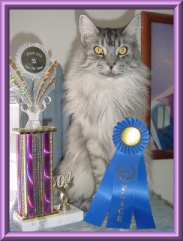 Shadow
Loved By: Roger Schoolcraft


Welcome to Contest
Week 273
Winner
Aunty Locket and Weaver, First Place Winner of week July 8, 2005
Single click on picture.
Push your e-mail SEND Button
Do Not change anything, Do Not type anything.
(AOL Users will need to type something in the body)
Rules and Entry Information Click Here
Each Contest begins Sunday at 12 midnight EST/9 PM PST and
ends Friday at 11 PM EST/ 8 PM PST...
Contest Votes are not Updated Monday or Friday!!!
The Contestants Photos
final Vote Totals Updated
Time and date EST
Bobbi

"Now I am an Angel"

Contestant 1


56 Votes

Buttakiss

"Good Ole Boy?"

Contestant 2


59 Votes

Chutney

"Mommies Little Darling"

Contestant 3


102 Votes

GizmoJasper

"I am A good Boy, sitting in my chair"

Contestant 4


73 Votes

Nacho

"What's that you Say?"

Contestant 5


70 Votes

Jillaroo

"Time For Play "

Contestant 6


59 Votes
Join us in Some Fun!!
Find out all the latest news on
or Pet Contest. All Pet
Owners Welcome. Join our Chat
and ask the members to
Vote for your pet!!!

Coco's Castle is dedicated
In The memory of Coco, Tiffaney, Honey and Sammy.

Coco's Castle was created

Copyright © 1999 - 2005 by Deborah S. Roberts, All Rights Reserved
Coco's Castle Has Been Visited